I was made aware of this book several years ago after it had been published and spent the entire time reading, nodding my head "yes", and congratulating Wendy Mogel for publishing this much needed book. I have referred this book to countless parents that I have worked with over the years with very positive feedback. It is timely and will challenge parents to reconsider their ideas about parenting in today's age of over scheduling, over consumption, entitlement and materialism. It is a short book and a quick read. You will not regret reading this.
I can't praise this book enough!
The Blessing of the Skinned Knee - Wendy Mogel, PhD.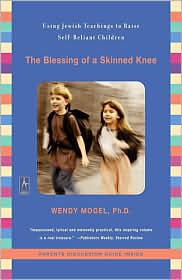 From the Publisher
Every parent hopes their child will be self-reliant, optimistic, and well mannered, a challenge in our current culture. Clinical psychologist and Jewish educator Wendy Mogel distills the ancient teachings of the Torah, the Talmud, important Jewish thinkers, and contemporary psychological insights into nine blessings that address key parenting issues such as:
* determining realistic expectations for each child
* respect for adults
* chores
* mealtime battles
* coping with frustration
* developing independence and self-control
* resisting over-scheduling and over-indulgence
The Blessing of a Skinned Knee guides us toward effective, enlightened parenting in an increasingly speedy, material, and competitive age.